Veronica Clark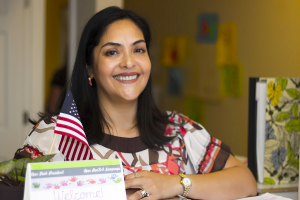 Ms. Veronica, our Lead Teacher and Director, is registered as an early childhood educator with the NC Division of Child Development. She received her Montessori Direttrice certification for the early childhood classroom -Casa dei Bambini- in 1992, and has made the Montessorian philosophy a way of life. A permanent early childhood education student; she's always learning how to be a better teacher.
Since she's a native Spanish speaker, the children learn in a seamless immersion environment that fosters developing simultaneous code language abilities. Thanks to her parents' foresight and to make her a citizen of the world -particularly the American continent- Veronica obtained her Cambridge Proficiency Certificate in English Language in 1979 while living in Dublin, Ireland, and she also speaks Portuguese and French.
She attended Law school in Mexico, but in spite of a great time working for the Mexican government, Nokia, and NEC Latin American Corporate Divisions, she's always found her way back to the classroom, and education.
An avid volunteer and advocate, she's an active member of  the PTA of Apex Public Schools, a volunteer Teacher at St. Andrew's Catholic Church youth programs, and is currently serving her third year as Vice-President of the Wake County PTA Council.
She's also a NC Department of Human Services registered CNA and she does hospice and senior care on a professional and volunteer basis. Her days are perfectly balanced with the dawn and dusk of life's ages.
She's happily married to a wonderful man  -Mike- who along with their son -Michael- support her in every way. After many moves and many countries, Veronica has found in Apex her most beloved home.
Rosie Ravirajan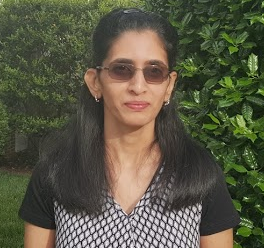 Ms. Rosie is originally from India and has been residing in the Apex area for about 15 years with her husband and son.
She earned her Bachelor's Degree in Science from the University of Madras, India.  Ms. Rosie discovered her passion for working with young children when she started volunteering at her son's school.  Hence, she decided to pursue qualification in Early Childhood Education and is registered as an early childhood educator with NC division of Child Development.  She has been working with preschoolers for over seven years.
Ms. Rosie is very pleased to be a part of Apex Montessori, as she thoroughly enjoys watching the children learn and grow.  In her leisure time, she enjoys visiting places, gardening, reading, and listening to music.